Opis
Specs
Lenses
8 x 200° F3.2 fisheye lenses
Photos
Real-time / Post-processing Stitching 10560 x 5280 (11K 2D) 10560 x 10560 (11K 3D)
Video
Post-processing Stitching 10560 x 5280 @30fps (11K 2D) 9600 x 9600 @30fps (10K 3D) 5280 x 2640 @120fps 10-Bit video 7680 x 7680 @30fps (8K 3D) 7680 x 3840 @30fps (8K 2D) Real-time stitching 3840 x 3840 @30fps (4K 3D) 3840 x 1920 @30fps (4K 2D)
Video Coding
H264 and H265 in-camera, Pro RES 422 HQ is available when post stitching.
Live-streaming Modes
Built-in server / Custom server / HDMI output 3840 x 1920 @30 fps ( 4K 2D livestream ) can store 8K video while livestreaming. 3840 x 3840 @30 fps ( 4K 3D livestream ) can store 6K 3D video while livestreaming. Note: Simultaneous live-streaming + recording is supported.
Live-streaming Protocol
rtsp, rtmp, hls
Storage Specification
9 SD Card
Exposure Modes
Auto, Manual, Lens-by-Lens Custom, Shutter Priority (photo only), ISO Priority (photo only), Set ISO Upper Limit (video only).
White Balance Modes
Automatic, manual
Photo Modes
Single shot / Burst (10 continuous shots) / Timelapse / AEB (Auto Exposure Bracket, optional 3, 5, 7, and 9 photos for in-camera HDR photos) Note: Both RAW and JPG can be selected for simultaneous shooting for synthetic HDR photos and all other photo modes.
Video Modes
Standard (i-Log is available) / Binning (i-Log is available)
Bitrate per Lens
Up to 180Mbps
Battery Capacity
10000mAh removable battery
Operating Temperature
0 - 40℃
Storage Temperature
-20 - 40℃
WiFi Specifications
WiFi Specifications: 802.11 b/g/n, 2.4GHz. Signal range is about 20 meters in open space. Max preview framerate of 30 FPS, supported in roughly 5-meter range.
Antennae
GPS signal antenna + WiFi signal antenna
Video Transmission
Insta360 Farsight provides ground-to-ground range of up to 300 meters and ground-to-air range of up to 1000 meters, with 30 FPS preview.
Gyroscope
Ultra-precise 9-axis gyroscope
Stabilization
FlowState Stabilization
Stitching
Optical Flow / Template
Supported Operating Systems
Windows / Mac / iOS / Android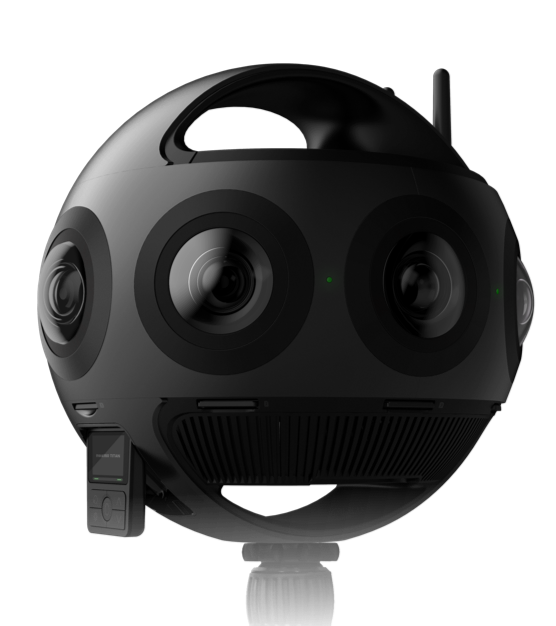 Built for cinematic VR.
Insta360 Titan is the premiere cinematic VR camera. Reserve yours today and receive priority delivery when shipments begin in April.
Prikaži Sve
Zatvori